WE MAKE THE BEST VEST
BUNGEE SIDE STRAPS
Allows for more comfort when breathing and moving while maintaining your vest tightened.
CUSHION PADS
Cushion pads inside the vest guarantee your effort will come from your training routine and not from an uncomfortable vest.
ADJUSTABLE WIDTH
Designed to fit most athletes. If your body requires more or less room
simply lift frontal lid and adjust the velcro side straps.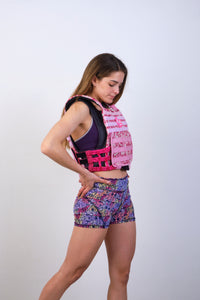 VEST SPECS
Designed in USA and made with water resistant 600D Polyester
Unloaded weight: 1.5 LB, plate cavity size: 11.5 in width x 12.5 in
height. Compatible with most weight plates smaller than 11.5 in wide x
12.5 in height and 0.33 in depth
One size fits most. Side Velcro fasteners for circumference adjustment,
bungee side straps for maximum breathing comfort. Front, back and
shoulder cushion pads
Front velcro stripes for patches, WF Tactical silicone patch included
Suscribe for offers!
Promotions, new products and sales. Directly to your inbox.